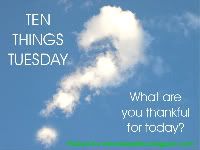 Another Tuesday is here! I can't believe a week has already passed and it's that time once again!
1. I started a website with all of our wedding photographs. It is still not complete but I've gotten a lot done and I'm thankful for the time I had this weekend to start it.
Wedding Picture Website
Alot of family members wanted to purchase some pictures from the wedding and until now they couldn't. Our photographer's assistant gave us the name of the lab where Carolyn took all of her photos and since the owner knows Carolyn and her story he'll allow us to copy any pictures we'd like at cost. SO...I had to get a site started for people to pick which photos they wanted. It'll be complete soon. Maybe even tonight! :)
2. It rained today. Almost all day. We've needed the rain very badly so it was nice. However, this morning when it was thundering it made me want to stay in bed even more! I love to lay in bed on rainy days.
3. Tomorrow through Friday we'll be taking nothing but billing calls from other reps at work. Should be exciting! Haha! No, I'm kind of looking forward to it because we had two days of billing training, on top of our other two billing trainings so it should be great to do what we've been learning. Then, Monday we are in our real spots on the floor. It will be sad though because we'll leave eachother. We've all been in training together since the beginning of May and now we'll all be sent in our different directions. But, I've made great friends and people I'll get to see and know around work.
4. This weekend I'm going to my mom's side of the family's reunion. It'll be great to see everyone we only get to see about once a year. We are also celebrating my grandfather's birthday on Sunday. I'm also going to get to meet my second cousin, Jacob! My cousin Cristina and her family live in California and Jacob was born in late May so we'll all get to see him!
5. My mom and dad have been working on their backyard for the past few months and mom got a new patio set so we get her old one! Haha! But, I love it and it'll look great on the deck. I can now move the small bistro table and chairs to the front porch and make it look welcoming out front.
6. We have been coming up many ideas to fix up the house. The yard is a mess and when Blake bought the house 5 years ago it was going to be his starter home so when he moved in he hit the ground running with a new roof, new flooring, new paint and appliances. However, he left his job to go back to school so it put a hold on a lot of the work. Now, we are going to replace the carpet in the bedrooms with hardwood, paint the bedrooms, I've already painted the living room, dining room and kitchen, and hopefully new countertops in the kitchen and bathrooms. Outside is going to need the most work. The front yard is not a yard, but a hill. We are going to talk to some friends of Blake's who own a landscaping company to see what we can do. We are also going to build a fence and maybe pour a new driveway. I'll post before and after pictures as we move along.
7. I've lost three pounds since the beginning of August! I'm sure thankful for that. I've started working out again and hope to lose a lot more.
8. Hmm...I'm pretty boring this week. I think that's all I've got!
See you all next week!