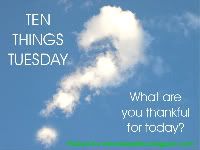 I found this on a friend's blog and thought it would get me to writing again, at least once a week! If you're interested here's the link to get your own list started on your blog:
http://xboxwife.blogspot.com/2007/04/ten-things-tuesday-guidelines.html
1. I'm thankful that I have a "handy" husband. I got a new laptop and Blake put together my new laptop table.
2. I'm thankful for finally getting my real wedding pictures after almost a year. The reason we didn't receive them was very sad however; my photographer and her husband were in a terrible car accident about a month after our wedding. BUT, I am so thankful that they are alive and doing better. Please keep Carolyn and her husband Mike in your prayers.
3. I'm thankful for my dogs. Every day they are so excited to see me pull into the driveway! When I let them inside they jump and run all over the place in excitment.
4. I'm thankful I don't have a teenage driver. Ha-ha! Working in insurance it is the dreaded call that parents make to me daily to add thier teen driver. They know that their rates are about to sky rocket. I'm also thankful that I am not a teenager anymore! :)
5. I'm thankful for my health and that I'm able to work out even though I don't want to. I tell myself on days when I'm really not feeling up to it that there are people out there who would love to get up and go for a jog. God gave me my body and I need to take care of it.
6. I'm thankful that both my parents and Blake's parents, besides his dad, live close by. I love stopping by their houses just to say hi and have them over anytime we decide to cook a big meal.
7. I'm thankful for fast running, new computers.
8. I'm thankful that tomorrow is Wednesday and it's my last day of training at work. It's been 3 months of training...I'm ready to get going and have my new schedule. I'm thankful for having three days off a week!
9. I'm thankful for the rain we had today. It wasn't a lot but anything is appreciated.
10. Finally, I'm thankful I found Jill's blog with the Ten Things Tuesday idea! Go get one yourself!
Love you all,
Holly